PLACEMENT INSTRUCTIONS 
Place the device over the area of pain, wait 2-5 minutes; if you are not starting to feel relief, move the device an inch at a time, waiting 1 minute between moves. Repeat until the optimum location is found, where your pain is at its minimum. The final location may be a good distance from where the pain is being felt. 
The pink dots on the images are examples of some good starting points in the event you are having trouble locating the sweet spot.  Please do not hesitate to email or call, we are happy to assist you.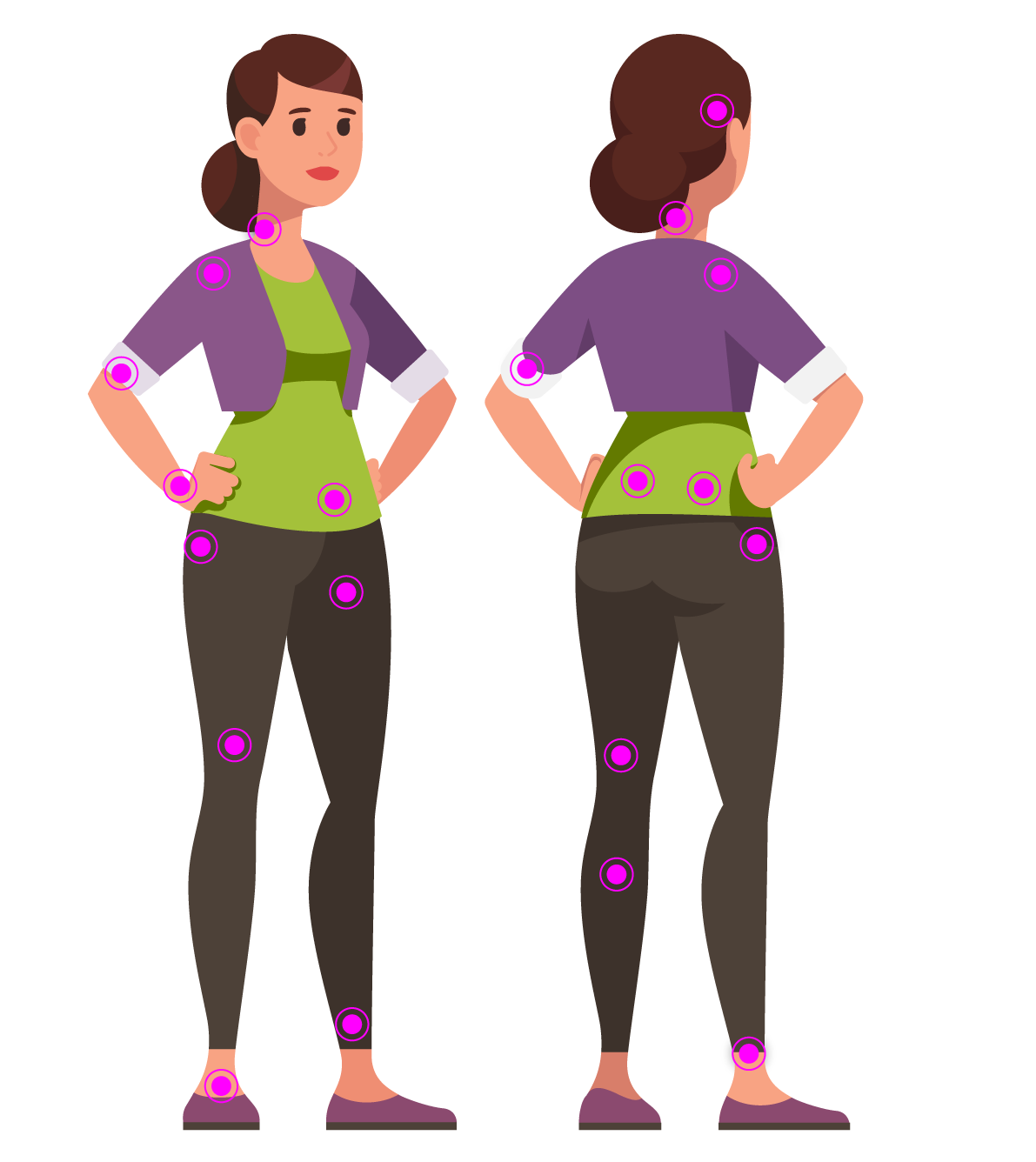 What happens when it gets wet?

The device is very durable and is water-resistant. Dry the device off and it should be good to go back to work for you. 

How many times can I reuse them?  How long do they last?

The devices are very durable and will last a long time (Months, Years), as long as you keep them out of the washing machine and don't lose track of them. We always say, "You'll probably lose it before it wears out."

Q. How do I clean them?
A. The devices should be cleaned by hand with a damp cloth moistened with a mild detergent and then air-dried.

How do I clean them?

The Device should be cleaned by hand with a damp cloth moistened with a mild detergent and then air-dried.

Will this help speed my recovery when I've overdone it during a workout or playing sports?  

Post-exercise muscle soreness and injuries are familiar to every sports enthusiast. The PainRelief.io Device promotes physical activity for users with age-related, mild joint stiffness and exercise-induced pain, which may help improve muscle strength and endurance.
Do they hold up to sweat?

Yes, they hold up very well to sweat, we have a few very sweaty users. Use the included double-sided adhesive gel pads and stick the device to the inside of your clothing instead of your skin.

Will it help with muscle knots?

Yes, Place the device on top of the knot, and in a short time, the knot will usually release.
Do I need a prescription?

No prescription is needed to purchase one of our Pain Relief device. This is a general wellness product that is designed to help you lead an active lifestyle. 
I am old and my skin can't take adhesives, how can I use this device? 

The device can be held by the hook and loop, as well as taped to clothing in the desired location. Or it can be laid upon while sleeping or resting. The device does not require direct skin contact and can be placed above bandages or other protective garments. The closer the proximity to the body, the better.
How many Devices can I wear at once? 

We recommend beginning with one to understand how it is affecting your pain. You can then add more if needed. 
After applying Device, how long before they Really, Really begin to work? 

The effect can be felt in a very short time, which makes it easy to find the location that works best for your pain. If you are not feeling it working after a couple of minutes. move it slightly and test again.
Do you have to keep wearing it for the pain to remain gone? 

The cause of your pain will determine your device use. For nerve pain that is actively being agitated - for example, a bone spur - the device will need to be worn longer than pain from bruises, or soft tissue pain from cuts or sprains. 
After it's removed how long does the pain-free effects last?

The longer you wear the device, the longer you can go without it. For some injuries, the device has helped remedy the condition in a shorter time than the norms.

Is PainRelief.io Pain Relief Technology patented?

Yes,  it's covered by one or more patents and pending patents that can be found listed here http://ncaplicensing.com/patents
Why is the Guarantee  137 Days?

We want you to give it a really good try! If you are unhappy with the results, you may return it and get your money back.  It works very fast and you will know if it's working for you in less than 7 days.  If you are not getting the results you want, please call so that we can help you locate the device.
How does this thing work?

The device is constructed with our patented Neurocuple(tm) layer sealed between two waterproof layers. Once placed in the correct location the Neurocuple(tm) layer is activated directly by the energy from the users own body, after a few minutes a hot, cold or tingling sensation is felt by the user as the pain fades.